Conference Venue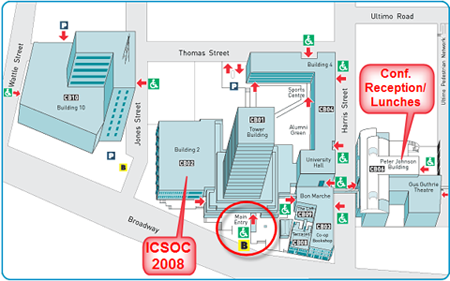 The conference venue is located at Ultimo City Campus (Tower Building), University of Technology, Sydney. For more information about the conference venue, please visit http://www.uts.edu.au/about/mapsdirections/bway.html. All conference activities will be held in building CB02 (Building 2). The registration desk and information will be at Building 2 Atrium. Please enter through the Main Entry. There will be signs directing you to the Building 2 Atrium area.
Directions to the VenueNEW
Street Address
15 Broadway, Ultimo
By train
UTS City campus, Ultimo is close to Central Railway station. After alighting at Central Station, take the eastern exits to Railway Square/George Street. Turn left at Railway Square and walk one block to the UTS Ultimo campus which is on the right.
For more information about train travel see the State Rail Authority.
By bus
Use the
Sydney Buses University of Technology, Sydney Transport Guide
for the most appropriate bus route to UTS City Campus.
Find out when bus departure and arrival times courtesy of the Sydney Buses Online Timetables web site.
For more information, network maps and trip planners using public transport in and around Sydney view the Integrated Transport information site.
By air
The closest domestic and international airport is Sydney Airport. A taxi from the airport to UTS City campus will cost approximately $20.
By car
Parking is limited to street meter parking and user pay parking stations. Wilson Parking operates a car park in Quay Street, close to Haymarket. UTS operates a carpark in Building 10 on Thomas and Jones Streets, which offers discounted parking to students and staff of UTS.
Try an online street directory, with driving directions, like www.whereis.com or Google Maps to navigate your way to UTS.
For more information about directions to the conference venue, please visit: http://www.uts.edu.au/about/mapsdirections/city.html
Directions to Conference Reception and LunchesNEW
Conference Reception (starts from 6:00pm on Monday 1st Dec) and lunches (12:30pm - 1:30pm on Tuesday, Wednesday and Thursday) are in the DaB Café. The DaB Café is located at 702-730 Harris Street. The DAB building (Building 06) is also called as "Peter Johnson Building" at UTS.
From the main foyer on the 4th level of UTS Building 2 (near the ICSOC 2008 reception) go towards the main entry of the conference (this is the main entry to the Tower Building, i.e., Building 1). Then, exit the glass door entry/exit, turn left, walk about 50m, and turn left to walk another 100m, the walkway will make you turn sharp right after 50m, walk across the pedestrian bridge which passes over Harris Street. This will take you directly to the DAB building. When you enter the building, the DaB Cafe/eatery is right in front of you.
Directions to Social Activity - Harbour CruiseNEW
The social activity (Harbour Cruise) is on Tuesday 2nd Dec. Details are:
Matilda Cruise
Vessel: Aussie Legend
Time: 7:00pm - 8:30pm
Depart at Pier 26 (in front of Sydney Aquarium).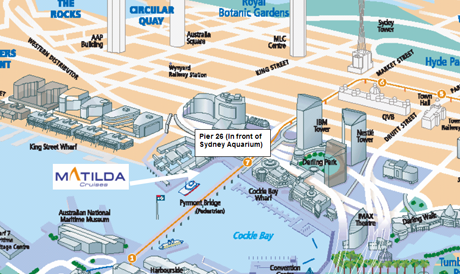 Directions to Conference Dinner VenueNEW
Conference dinner starts at 7:00pm on Wednesday 3rd Dec, at Australian National Maritime Museum, Darling Harbour. On foot, it will take about 23 minutes from the conference venue:
Restaurants and Cafes close to the Conference VenueNEW
On Campus
There is a Cafe located at Building 10 of UTS. This is at walking distance from the conference venue. It is approximately 500m away from the Tower building. You need to come out of the MAIN ENTRANCE and turn right keep walking and turn to your first right, and walk another 200m. The Cafe has a different menu everyday. There are wraps, salads, coffee cake etc available. This is a quick option, takes about 25-30 minutes.
Food court located at the basement of Building 1-2. There are 4-5 outlets, serving Indian, Chinese, Italian, and Japanese food. To reach the food court you need to take the stairs which are located at the main atrium of the Tower building where the conference is held. This is a quick option, takes about 25-40 minutes.
The Faculty has its own dedicated building, Building 6, within the City Campus of UTS, and is located at 702-730 Harris Street, Ultimo, NSW. The building is known as the Peter Johnson Building.
Off Campus
More options for food and drink are in Chinatown and Haymarket. Both Chinatown and Haymarket are located a short walk from Central Train Station and UTS. Many of the city's buses move through George St and you can get off at Haymarket. The light rail from Central Station passes Chinatown just after the Haymarket stop. This might take 1-2 hrs. For more information, please visit: http://www.sydney-australia.biz/chinatown/.
There are number of fast food outlets around UTS. Turn left from UTS Tower building approximately 60m, there is a MacDonald, KFC, Subway after the first set of traffic lights.
Broadway Shopping mall: Turn right at the entrance of the Tower building and keep walking straight approximately after 900m, turn right after 3 sets of traffic lights, you will then enter Broadway shopping Mall in which there are food courts at the 4th level. This might take 45 minutes.
Facilities and SupportsNEW
Each conference room will be equipped with the following:
A lectern with built-in AV system and PC running Windows XP platform
VGA and audio output leads for hooking up a laptop
Document camera
Microphone (both fixed and radio)
Software on the PC

Browsers (IE and Firefox)
Acrobat Reader 7.0
Microsoft PowerPoint 2002.
Wireless network account will be setup at registration. There also will be common access computers.
Each demo session will be provided with:
Table and chairs
18'' LCD monitor
Power board
Blu-tak (reusable adhesive) to put up your poster on the wall behind your table
Pre-RegistrationNEW
There will be pre-registration on the day before the conference starts for people who want to avoid the first day rush. The pre-registration desk will be at Building 2 Atrium, opens from 4:00pm – 6:00pm on Sunday 30th November 2008.
Useful links